Airofog 5L
A high quality stainless steel sprayer designed specifically for the professional pest controller.
Solid brass Drip-Free trigger, lance and pump assembly
Chemically resistant hose and Viton seals/gaskets
4-Way brass multi-tip nozzle - Pin/Fan/Cone/Crack & Crevice tip
Pressure gauge and relief valve.
Pair of shoulder straps
Full repair kitted issued as standard
Laminated repair manual for easy maintenance
Drip-Free Lances
Convert your existing sprayer to drip-free operation. The Airofog 9" & 18" drip-free lances are available with conversion kits to fit most 1/4 " hoses. Fan nozzle or Multi-tip nozzle lances are available.
Airofog 10L
A heavy-duty 10L sprayer fitted with an all stainless steel tank and pump handle.
Brass pump cylinder
Brass lance and trigger valve
Pressure gauge
Pressure relief valve
Chemically resistant hose and Viton seals/gaskets
Large filling aperture with stainless steel lid and over-centre latch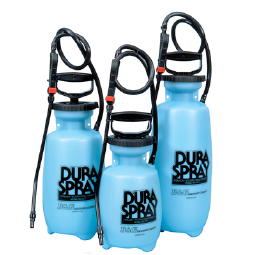 Duraspray Range
Designed for long service reliability, the Dura-Spray 4, 8 & 12L sprayers are manufactured from high- density polyethylene offering excellent chemical resistance.
Funnel neck for easy filling
All plastic trigger & extension lance
Viton seals provide excellent chemical compatibility
Fully repairable
Laser Viton 1 and Laser Viton 2
Hand-held sprayers providing excellent durability and chemical resistance.
Choice of capacity: 1-litre (LV1) or 1.5-litre (LV2)
For the application of: neutral or weakly acidic paint strippers; rodenticides; disinfectants; detarring solvents; and products for treating wood and roof timbers
Viton seals
Easy fluid visibility
One-handed operation
Adjustable conical nozzle with polyamide insert